There are many ways to design a logo, one of them is using sketch manually then trace it with design software, or you can do it by tracing reference images like in this video step-by-step explanation using Inkscape.
What you will learn
Adding Layer and Lock Layer
Using Bezier tool
Locking corner with Bezier tool
Smoothing Lines
Duplicating Object
Intersecting Path
Using Gradient Tool
Kerning Fonts
Step 1
Import the image in File > Import. Then click (+) to create a new layer for the logo later.
Rename it to "Image" for the image layer by double-clicking and lock the image layer. Now, we are working on the Logo Layer.
Step 2
Create a shape with a bezier tool (B) for each part of the Flamingo.
Tips: hold shift to lock the corner, then release.
Result:
Step 3
Refine the path by clicking the path and pressing F2, and deleting some nodes. Remember, the fewer nodes, the smoother the result.
Continue to refine another paths.
Result:
Step 4
Give a color to the path with Golden Yellow (#ffdf2dff) in Edit Objects (Ctrl+Shift+A) on the Fill and stroke tab > Fill > choose Flat Color > in RGBA Section.
And you can do the gradient by clicking the path first, pressing G to activate the Gradient Tool, and drag diagonally. change the color to Red Salsa (#ff3b42ff) and Fashion Fuchsia (#f5199bff).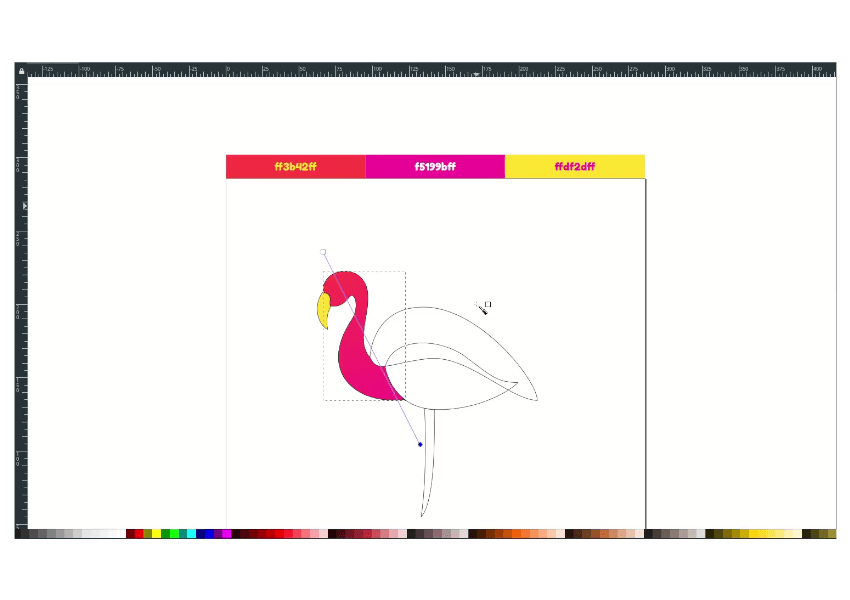 Create a gradient for another paths.
Remove the stroke by selecting all paths, in the bottom left corner on stroke, right click > remove stroke.
Result:
Step 5
Now, for the shading. create a shape with bezier tool (B) and change the color to black.
Duplicate the beak with ctrl+d, then select the duplicated beak and the paths with shift-click. Go to Path > Intersection.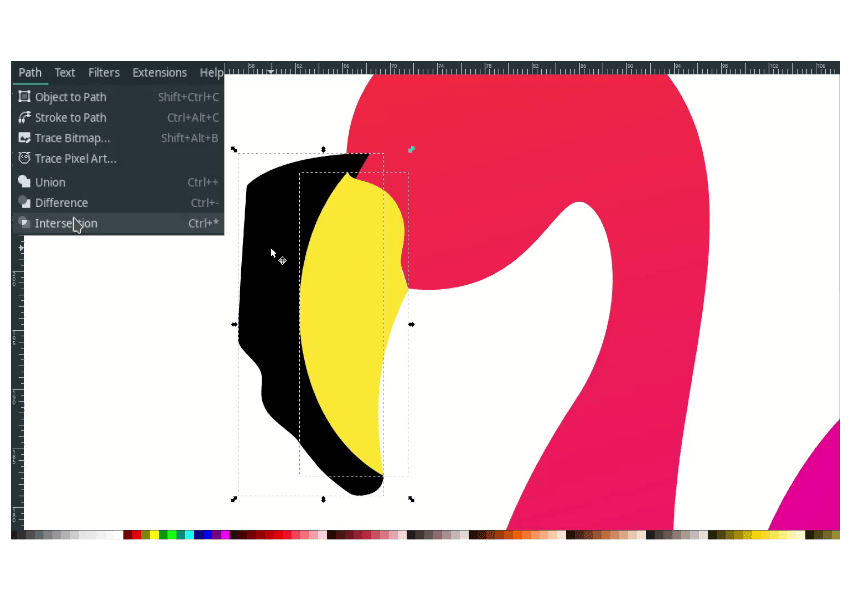 Change the color to white and reduce the opacity to 50%.
Continue to another paths.
Done
You can create logos from an image by tracing with bezier tools. Thank you for reading, and have a great day.
Tutorial Assets